Our Champions
100 percent of ours litters have AKC Champion parents, most of our litters even have both champion mothers and champion fathers. We are show exhibitors that breed litters that have champions produced out of those litters, and not just breeding for pets. Showing Yorkies is a extensive hobby that we do as a family. We love to do it as a family and we have a true passion for this breed.
Our AKC Champion Yorkshire Terrier Show Dogs

Absolute quality striving to proudce the absolute Yorkie !!
A good source to find good Yorkie breeders is at a AKC dog show, or online to locate AKC dog show exhibitors. Show breeders dedicate their efforts to producing high-quality dogs. To do this, they breed toward an ideal Yorkie of which they prove this by taking their dogs in competitions. They also screen them for hereditary health problems. Nonetheless, not every puppy is competition quality. These pet quality puppies are where you can profit as they will be the best in looks, structure, temperament, health and correctness toward the breed. Temperament is an important attribute that should not be overlooked.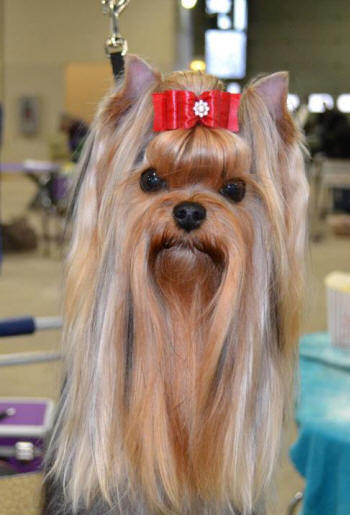 Click the link to get information on available Yorkie puppies along with pictures of puppies and pictures of their AKC Champion parents. We welcome all inquires about our dogs as well as any breed related questions you may have.
Thank for your interest in our Yorkies !!!